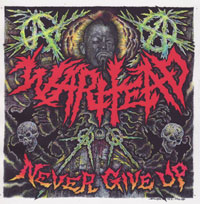 I've never bothered with pre-orders before, but given how popular this release will be and my time constraints, I'm going to do it for this one in order to take care of most of the orders at one time and get them out as quickly and efficiently as possible. If it works out well, I may continue it in the future. Bloodsucker Records is compiling all the out of print Warhead material onto this CD due out in early September. Pre-orders will ship as soon as I receive the CDs. The CD includes...
●1st 7 ep CRY OF THE TRUTH(SELF RELAESE)
1. CRY OF THE TRUTH
2. SUICIDE
3. FIGHT WITH NO FEAR
4. YOU IN CORRUPTION
5. YOUR ON CRIME
●2nd 7 ep The Lost Self and Beating Heart(BLOODSUCKER)
6. Burn Your Heart and Go Through Darkness
7. 疾走
8. Absorb Shocks!
9. Crazy Soul Hurricane
10. The Lost Self and Beating Heart
11. I m Still Alive!
●V.A. CD HARDCORE BALL 3
12. SLASH ONE'S WAY
13. (WHO'S A)LAW BREAKER
14. IT'S NOT A DEAD END
●V.A. LP ONE SHOT ONE KILL
15. BRAIN WASHING BY THE SHOCKS
16. SLASH ONE'S WAY
17. LAW BREAKER
18. CIRCULATION
●3rd 7 ep DRIVE IT IN YOUR HEAD!(FASTNAIL)
19. 月下
20. FACE CRISIS
21. 日常
●SPLIT with ORdER 7 ep(HG FACT)
22. DON'T GIVE'N TO ANY PRESSURE!!
And it comes with a DVD of footage from throughout their history. I think most people haven't heard the v/a Hardcore Ball tracks. They might be the most savage recordings Warhead have done, and that's certainly saying something.
$12.50 in the US including postage and paypal, payable to buraicore@gmail.com . If you want to order some other stuff, please specify if you want it to all ship at once to save postage, or if you want the in-stock items to ship now and the Warhead CD/DVD when it's available.